Tuesday, January 22, 2008
Do you like this story?
If there is one thing that technological advancement and human vanity have done wrong, without a doubt, it has got to be Michael Jackson's face. Jacko, as everyone would describe his wacko-ness, has gone through countless number of plastic (even cemented and metallic?! lols!)surgeries to further enhance his aesthetic stance.

Quoting Mr. Jackson, "I've never had my cheekbones done, never had my eyes done, never had my lips done and all this stuff, they just go too far." Adding on that (shocking) statement, he insisted that he has done very little alterations on his body. "Very, very little. I mean you can count on my two fingers," says the King of Pop.

How could a small kid...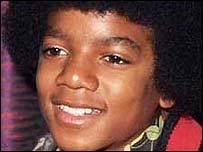 change to something like this with just a little alteration?



Without further adieu, I present to you Mister Jackson and his evolution. Enjoy.


Enjoy the day folks!
This post was written by: Jerick Baluyot
Jerick Baluyot is a professional blogger, writer and digital marketing specialist. Follow him on Twitter