Sunday, November 22, 2009
Do you like this story?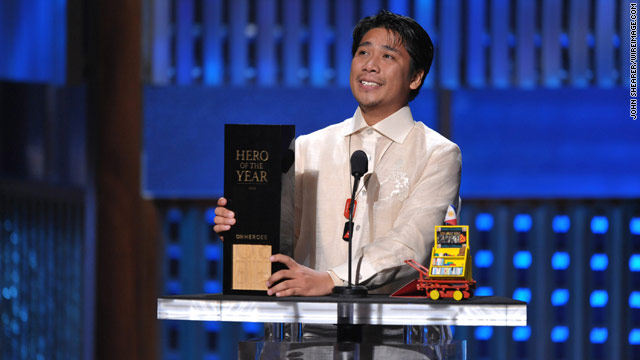 When accolades come our way, they come in grand fashion.
Fresh from last week's sporting mega headline comes this yet another prestigious feat. Filipino Efren Peñaflorida is the CNN Hero Of The Year 2009. He won over 9 other finalists from all across the globe.
What made Efren special? His kariton klasrum has been playing host to a number of street kids in his home province of Cavite for the past dozen years. It was a mobile school intended to help the meager get some education. His win was a product of 12 years of committed selfless act and dedication to help the children out.
The guy richly deserved the honor he was handed with. I'm just hands-down gonna worship the guy once I get to see him in person. People who are truly helpful deserves riches not any amount of money can offer. The truly helpful does not think of material rewards and cash register ka-shings.The $100,000 was just the cherry on top of his sundae.
I wanna congratulate Mr. Efren Peñaflorida. You deserved this. You made us Filipinos feel better about ourselves.
As a closing, allow me to share excerpts from his acceptance speech:

"Our planet is filled with heroes, young and old, rich and poor, man, woman of different colors, shapes and sizes. We are one great tapestry. Each person has a hidden hero within, you just have to look inside you and search it in your heart, and be the hero to the next one in need."
The winner was chosen through online voting.
This post was written by: Jerick Baluyot
Jerick Baluyot is a professional blogger, writer and digital marketing specialist. Follow him on Twitter