Thursday, September 23, 2010
Do you like this story?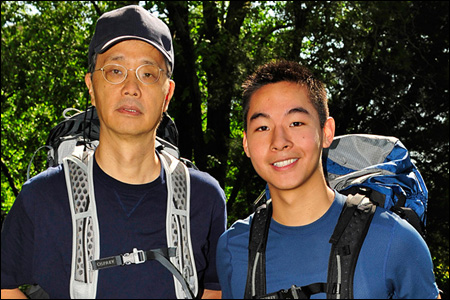 Dad (L) and KevJumba (R)
I couldn't be more excited about the coming
The Amazing Race Season 17
. You know why? Because
KevJumba
and dad are gonna be a part of it!
I think for the first time, I got really excited when TAR has first introduced its participants. I usually just wait for the actual season premiere and get to know the participants from there. I just happen to be a subscriber of KevJumba, one of the most popular YouTube celebrities, and the news (it was released a few weeks ago) just made me really excited for the coming season 17.
For the non-fans, you might be asking,
who the heck is KevJumba
? He is a YouTube celeb that posts funny videos of himself speaking just about anything and everything. He also shows his closeness with his dad, how different they were. KevJumba being a second-generation Asian American and his dad being the actual immigrant.
All fans alike will agree that we all fell in love with KevJumba's dad. Why? Because he represents all first-generation Asian-American parents who, despite the changed citizenship, is still very much the same person from the country they belonged to.
I will not be surprised if this will be the most-watched season! And if their team will place highly in the competition?! Expect KevJumba to go mainstream. Take that! Haha!
Meanwhile, check their video here.
This post was written by: Jerick Baluyot
Jerick Baluyot is a professional blogger, writer and digital marketing specialist. Follow him on Twitter