Thursday, June 24, 2010
Do you like this story?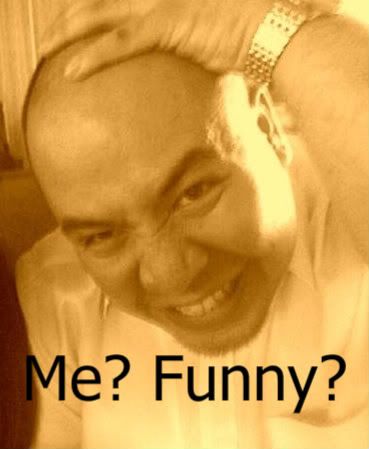 One of my homies at work, during one of our chat sessions, said that I should seriously consider becoming a stand-up comedian one day. I was like "yeah" and almost instantaneously imagined that I was in a small stage on some restaurant or some comedy central-like atmosphere (here in Manila, that could be Onstage in Greenbelt) sharing a few jokes, making myself look really retarded, sometimes, even laughing at myself. "That should be a great way to express myself," I thought to myself.
Then I imagined the likes of Tim Tayag, Russel Brand, Dane Cook, Kathy Griffin, Ellen deGeneres, and just every other funny people who graced stages and made people laugh and laugh and laugh all over again. I thought of both Jessica Zafra and RJ Ledesma, who through writing, composed humor that is so witty, I find myself laughing while reading both their columns on my favorite broadsheet.
Though I honestly loved the compliment, I thought for me to make the effort to make people laugh would only make people not laugh at my jokes more. I mean, I thought the more spontaneous and random I am, the more funny I become. I love to entertain the people around me. I get bored easily, that's why it is kind of normal for me to do something really stupid to make people laugh. And all of that come spontaneously. I can pretend to a friend that he is my stalker when in reality we were just walking at a mall. Or I can just randomly say something stupid and make the people around me laugh.
I really love making people laugh.
And I guess that's just me on the surface. Cos I know every funny person has something inside that is the complete opposite of their funny persona.
And regarding my friend's compliment? I thought I should enrol to Tim Tayag's class first.
This post was written by: Jerick Baluyot
Jerick Baluyot is a professional blogger, writer and digital marketing specialist. Follow him on Twitter