Monday, February 1, 2010
Do you like this story?
I've always wondered why the country never considered
Freddie Roach
as its foreign amateur boxing coach instead of the Cuban coaches we always hire. It proved that those Cubans never really helped, aside from Onyok Velasco's silver in Atlanta, but aside from that, they weren't really much of a help.
I think I read some great news while reading The Philippine Star earlier today about Freddie Roach training an 18-year old Fil-Am for the
2012 London Olympics
.After what Roach did to our prized Manny Pacquiao, this welcome development would only make us Filipinos hoping and exciting about a potential Olympic glory in London.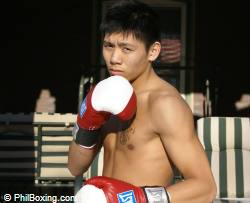 Julian Santos Chua
is a senior at Jefferson High Schol in Lafayette, Indiana, and

won the state Golden Gloves championship last March.

Since bagging the Golden Gloves

crown, the 5-9 Chua has won six in a row,

including a bout against the previous year's Indiana Golden Gloves titlist in a showdown of champions.
The kid is serious about 2012 Olympics that plans have been made for him to attend college in Southern California. The Wild Card Gym of Freddie Roach is in Los Angeles.
Hopefully, this kid would be the answer to our long Olympic drought. I don't care if a non-Filipino would help us get that gold. We should be thankful for men like Freddie Roach. And as for this Julian Santos Chua, I will be keeping an eye on you.
We expect you to create a big bang come 2012 London Olympics.
This post was written by: Jerick Baluyot
Jerick Baluyot is a professional blogger, writer and digital marketing specialist. Follow him on Twitter