Monday, January 26, 2009
Do you like this story?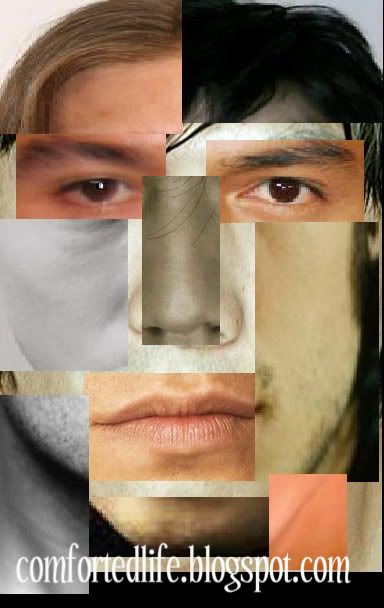 Most Filipinos that I know of thought that a Hispanic surname automatically equates to a Hispanic lineage. Little did they know that Malayo-Polynesian natives during the Spanish period lacked a family name and it was only in the 1800's that a Spanish Governador General ordered that all natives be given a family name. Having a family name definitely makes identification a lot easier.

Because of this apparent lack on information, it will not be surprising to find yourself speaking to a local, proudly telling you that his ancestors were Castilas (Spaniards or at least of Spanish ancestry) even if his facial features say otherwise.

The fascination that we-might-be-Eurasians must be a regional thing since I know of a Thai acquaintance who frowned to admit that he was a pure-bred Thai and not a luk kreung (half-Thai). A Canadian once told me that Thais are hot on their own, so why bother creating the illusion that you're half this and that?

Can't we accept that we might be pure Filipinos after all? How would that be a problem? I thought it would be exciting to know how a real Cebuano or a real Negrense would look like. I just thought it sickening to think that our ancestors come from Europe because of the spanish surnames we carry with us.

I don't carry a Spanish surname, meaning, my ancestors has carried with them the centuries-old surname that they've got. My paternal roots hail from Pampanga and Bicol and my maternal roots hail from Zamboanga, La Union, Panay Island, and Japan. Aside from the obvious fact that I'm Filipino, the only other obvious clue to my ancestry was the Japanese roots of my mom's maternal family.

That thing I've learned thru family history and genealogy, something our Church has been doing for decades.

There are two things that I wanna point out thru this post. One, know your family history first before having the balls to brag about your family's European roots and two, be proud of the fact that your flat nose and brown skin spells that you are indeed, a Filipino.
This post was written by: Jerick Baluyot
Jerick Baluyot is a professional blogger, writer and digital marketing specialist. Follow him on Twitter