Wednesday, December 10, 2008
Do you like this story?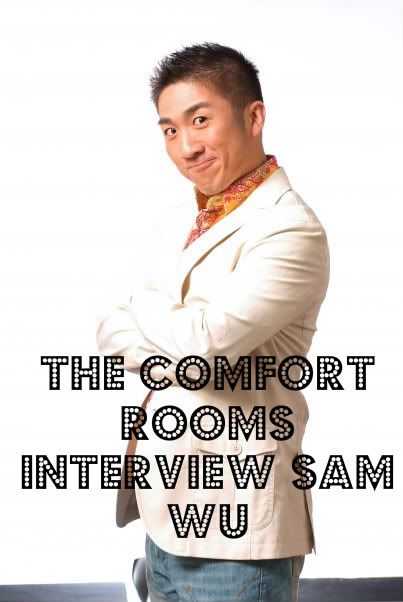 I had a couple of questions for Sam Wu, the Amazing Race Asia 3 Winner (together with fellow Hong Konger Vince Chung). Apart from being US$50K richer because of the race, he is also an English professor at the City University of Hong Kong.
Though getting this interview almost felt like moving heaven and earth, his down-to-earthness and approachability (is that even a word?!) makes the job a lot easier.
Here are my questions to him...

THE COMFORT ROOMS: Were you really chosen to do the Sony Cybershot ad because of the fact that you won the race?
SAM WU: No, we weren't chosen because we won the competition. The good people at Sony had no idea we won either! Not everyone at AXN knew we were the winner either. The results are kept extremely top secret. We were chosen based on another set of criteria, and it's just crazy coincidence that for 2 years in a row, they've picked winners for their ads.

TCR: After the race, what's in store for Sam Wu?
SW: For me, it's back to teaching at the moment. It's something I truly enjoy. I'll probably continue teaching till the end of the academic year (June 09), then weigh my options. I'm considering doing educational consultancy work – like organizing overseas study tours for schools. Or maybe host a travel show? Hahaha! I'll call it the Smurf Travels!

TCR: Who were you before the race started?
SW: I was someone who taught English and Communication full-time, but also pursued part-time my childhood passions of singing, acting and writing. I was a freelance writer for 11 years, and had my own a cappella group, Es'Choir, back in Singapore. In HK, I started singing back-up for a few local Cantopop stars, such as songbird Sandy Lam. I'd sing for her overseas tours, concerts, albums etc.

TCR: And who thought of joining the race between you and Vince?
SW: The truth is, I approached Vince to take part in the TARA 1. But Vince claims his schedule didn't permit him to take part. But honestly, I think he just didn't want to take part with me because I have a 15% permanent disability in my right ankle. I suffered a stress fracture when I fell off the cliff (yes, I survived a cliff fall) during my army training days in 1995. I'm not supposed to exert pressure on my right ankle, so he thought I'd be a liability during the race. Hahaha! But somehow, for TARA 3, Vince changed his mind and asked me if I was still interested in doing the Race. And I was like, "Are you sure?! My ankle is still the same! Not great!".

TCR: How many clothes did you really bring for the race? Is there a specified number of clothing that you were allowed to bring? I always notice the white shirt and the blue shorts you keep on wearing!
SW: There isn't a limit, but of course, everyone tries to pack as light as possible. And as you may know, we were only given half a day to prepare for the Race, so it meant that I just grabbed whatever was clean, old and light. I only brought 2 pairs of shorts, and maybe 4 tee-shirts?!

TCR: How long did the race run? Basing on the Amazing Race Asia Memories show, the race run for three weeks?
SW: I think that's about right.

TCR: And speaking of the Amazing Race Asia Memories show, fans noticed the chemistry between Bernie Chan and Vince Chung. Any comments on that?
SW: Hehehehehe! All I shall say is they have a soft spot for each other. =)

TCR: Do you read the Amazing Race Asia forum?
SW: I read it occasionally but did not follow it.

TCR: For the third consecutive season, I noticed that the nice competitors have beaten the brawns (JoeJer and Zabrina over Sandy and Adrian and Collin over Marc and Rovilson). Being nice and low-key should be a sure winning strategy huh?
SW: I don't know if it's a winning strategy but clearly, having only brute physical strength is insufficient to secure a win. Apart from luck (which plays a huge, unforeseen factor), I would say that teams need to have good decision-making, tactical, analytical skills. Above all, great teamwork is almost compulsory. In-fighting only zaps your energy and causes you to lose focus.

TCR: Which of the legs would be the toughest one in your opinion?
SW: Honestly? I think the first 2 legs. We were a last minute replacement team, and we haven't found our footing yet. As you may notice, in the first episode, we were constantly last for the first three challenges (due to bad taxi-drivers). It was very demoralizing. But we had to set that aside, and truly focus on not getting eliminated in the first round. The second leg was over 40 hours and just zapped the life out of us. We were so tired physically and mentally. I had never gone through anything like that in my entire life. Well, army training comes close…

TCR: Before the race actually started, who did you think would win the race? Why?
SW: Again, honestly, before the race actually started, Vince and I felt that we had an edge, seeing that we were both guys, and knew each other's strengths and weaknesses very well. We knew we'd work well together, and complemented each other perfectly. We were each other's foils, with Vince being the physically strong one, and me being the patient, strategic player. So, we thought we'd had a good chance to win. And after we found our footing and groove in Episode 3 (Vietnam) where we narrowly missed being first place by mere 3 minutes, we knew that we could really be a force to be reckoned. We definitely became much more confident in Episode 3.

TCR: Have you added up to the Celtic tattoo you have on your back?
SW: Nope!! Haha! Will remain loyal to my Celtic tattoo for now!

TCR: Any tip to all those who plans to create an audition tape for the race?
SW: A professionally made tape with music and animation is not necessary. The first 30 secs is crucial in catching the producers' attention, so ensure that you have a hook. Producers are looking for something different, exciting, and something that will make for good TV. So be animated, be real, display solid chemistry with your team-mate, and prove to them that you're not scared of the camera! They don't want people who clam up or feel shy in front of the camera!

TCR: And when are you coming over to Manila to meet and greet your fans?
SW: Gosh! We really REALLY wanna come over to say hi to our Pinoy fans, who have been amazing in their support. Vince – who's pursuing acting and hosting full-time – has understandably a less predictable schedule as you never know when a job will come up. Hence, it has been harder to plan for something. But we definitely wanna come over. If not in 2008, then for sure during the first half of 2009. This is a promise.
This post was written by: Jerick Baluyot
Jerick Baluyot is a professional blogger, writer and digital marketing specialist. Follow him on Twitter